It's been a week since the doors for the Geneva Motor Show opened, and they still are until this Sunday. The big theme this year is eco-friendliness, but with a twist. The twist is fun! With cars like the Volvo Polestar 1 and Honda EV concept cars, it seems like manufacturers have finally realized that people want cars that are eco friendly, but also fun. There's plenty of other interesting non-EV and non-hybrid cars as well, but 10 have stood out more than others. Hope you approve of the list.

The 2018 Geneva Motor Show is upon us, and there's plenty of new metal to get excited about. Eco-friendliness, as usual, seems to be the popular theme -- with a seemingly endless list of new electric and hybrid cars. However, a lot of manufacturers have managed to make them exciting. It seems that the days of boring, uninspiring eco-friendly cars are going away. Outside of the world of electric cars and hybrids, there's plenty of exciting new performance cars, as well as a great number of interesting new everyday cars. The doors open to the public tomorrow, check out these pics to get a preview.
Powered by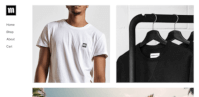 Create your own unique website with customizable templates.